Ali Shujau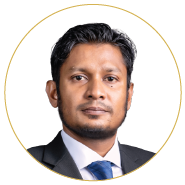 Mr. Ali Shujau currently works as Director, Legal Affairs at the Ministry of Economic Development. He also serves as a Board Member of the Privatization & Corporatization Board since June 2019.
Mr. Shujau attained his license to practice law in the Courts of Maldives in 2006. He began his legal career at the Ministry of Foreign Affairs. Notably, he held the position of Deputy Solicitor General at the Attorney General's Office, Deputy Registrar of Companies and Registrar of the Companies at the Ministry of Economic Development and Board Member of the Capital Market Development Authority.
Mr. Shujau holds a Bachelor of Laws from University of Waikato, New Zealand and completed his Master of Laws in International Law from the Australian National University. He has been a member of the Chartered Institute of Arbitrators since 2014.